Javier Zamora Jr. is a key player in the lowrider community in Chicago, known for his stunning 1964 Chevy Impala named "Blue Dream 64". Javier's journey with the Impala began when he lost his Honda to theft and was in search of something new. His cousin introduced him to the Impala, which already had an impressive paint job by Michael "Sic" Cato and was used as a hopper. Upon taking possession of the car, Javier noticed power steering fluid leaks caused by the wear and tear from hopping.
Determined to restore it to a street-rider, he brought the Impala to Mando's Custom Shop, where the motor work was repaired, and paint flaws were corrected. Chrome and engraving were added underneath the car to make it stand out. Ernesto from Echizos Customs helped Javier update the trunk setup and add a stereo system, while Martin Mina of M&M Interiors reworked the whole cabin to SS specifications. Hector Terrazas from OG Moonroofs refurbished the sunroof and added chrome railings. Krazy Kutting engraved a total of 65 chrome pieces on the Chevy.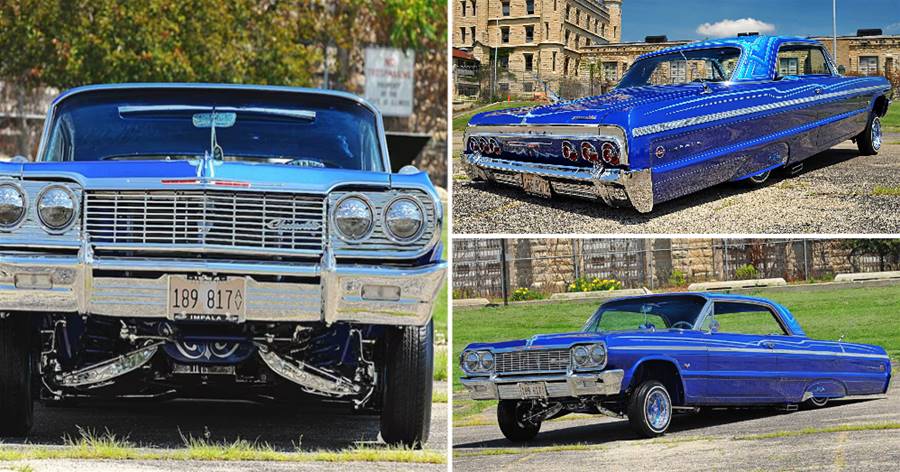 For wheels, Javier chose a set of 72-spoke Zenith Wire Wheels from Speedy's Metal Finishing, which were painted and engraved. Mando's Customs added chrome disc brakes, spindles, and stainless steel brake lines. With the support of his friends, family, and reputable companies, Javier's Impala became a huge success and set a high bar in Chicago. The Impala, known as "Blue Dream 64", features a 350 engine with an Edelbrock 1406 endurashine carburetor and a Weiand chrome intake manifold.
The body is painted in the striking 2009 Lexus IS-F Ultra Sonic Blue Mica with pearl, silver leafing, and pinstripe, all done by Michael "Sic" Cato. The suspension includes a four-pump Black Magic chrome setup with Adex II dumps, 10-inch cylinders in the front and 16-inch cylinders in the rear, and 14 Super Start heavy-duty batteries. The interior boasts a Dakota Digital gauge cluster, ididit chrome steering column, and upholstery by Martin Mina. The Impala also features an Alpine sound system, with a head unit and high-quality components and subwoofer. The 13x7 Zenith Wire Wheels with Candy blue paint, engraved by Speedys Metal Finishing, complete the impressive look of the car.
Javier acknowledges the support of his wife, kids, parents, as well as the talented individuals who contributed to the building of "Blue Dream 64", such as Armando Alba, Jose Francisco Flores, Santiago Gonzalez, Fernando Zamora, Ivan Corral, and Ernesto Meza. In summary, Javier Zamora Jr.'s 1964 Impala, "Blue Dream 64", is a standout in the lowrider community of Chicago. Its stunning exterior and interior features, along with the impressive engine and sound system, make it a true reflection of Javier's passion and dedication to the lowrider culture.