Anthony's dad always fixed up cars, and even showed the young man a picture of a '64 that was slammed. He credits being a car painter as his entry into Lowriders, something that began over 15 years ago.
He got into painting because he couldn't afford to pay someone to paint his cars for him. One of his first cars was a '67 Bug, which he got ready for paint. "I paid someone a few hundred dollars to paint it for me," says Anthony with a laugh.
After the Bug project came a '66 Impala, which Anthony built from the ground up. He ended up getting rid of it to pick up a '60 project. Anthony also built that car himself, but this time he gave it a candy purple paintjob.
His dream car has always been a '59 Impala and when the opportunity came for him to get a '59 hardtop, he wasted no time in making the deal. One of Anthony's uncles sells '59 and '60 Impala parts, and he knew about his nephew's infatuation with these model years. "My uncle is the one that hooked me up with the guy who owned it," says Anthony.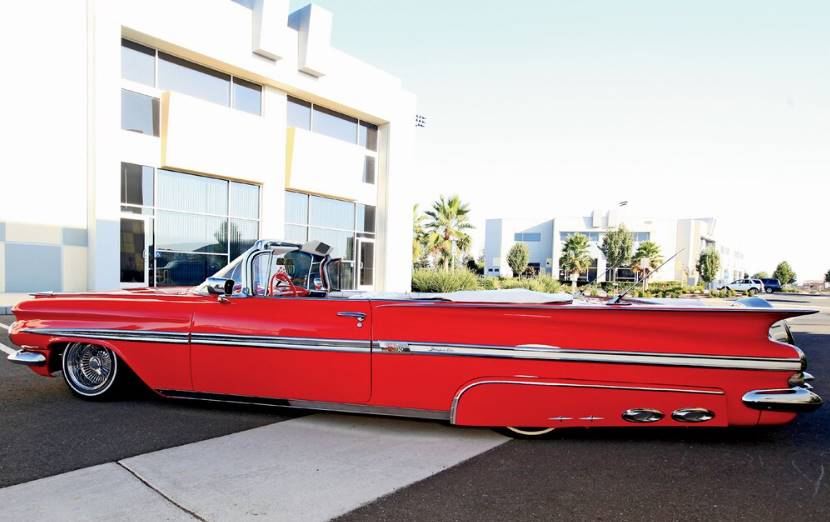 He and Cory Howard took a trip to San Jose to pick up the car. "I thought I got a good deal on the car," says Anthony with a laugh. Once the car was brought back and taken apart, Anthony unfortunately found out that the car needed just about everything in rebuild work done to it.
From the passenger and trunk floors, to both quarter panels and in between, the car was a mess beneath the surface. "It turned out to be a border line throw away car," says Anthony in disgust.
At that point, Anthony was unsure if he was going to be able to restore it at all. "My wife told me to finish it and not leave it, because I still had my '59 hardtop that was very clean and cruise-ready."