'Be Funny': Comedian Nate Bargatze to bring family-friendly show to Community Arts Center
For comedian Nate Bargatze, the last few years have been something of a whirlwind. A 20-year veteran of the stand-up scene, Bargatze has enjoyed a large following of fans for a long time but recently his fame has reached much greater heights. On the heels of two extremely popular comedy specials on Netflix ("The Greatest Average American") and Amazon Prime Video ("Hello World"), the Grammy-nominated Bargatze now finds himself on the biggest tour of his career, selling out arenas and theaters across the country.
Earlier this month, Bargatze broke the attendance record at Nashville's Bridgestone Arena by filling 19,365 seats, which was a major accomplishment for the Tennessee-based comedian. Next week, area fans will get to enjoy his slow-paced deadpan style of comedy for themselves, when Bargatze brings his "Be Funny" tour to Williamsport, with a show scheduled for 7 p.m. Thursday, May 4, at the Community Arts Center.
"(This tour) has been wild, dude. It seems like every time I go on tour, it just keeps ramping up," Bargatze said. "I always say I could never pay everybody back for all the support they have shown me. I truly, truly appreciate it. It means the world to me."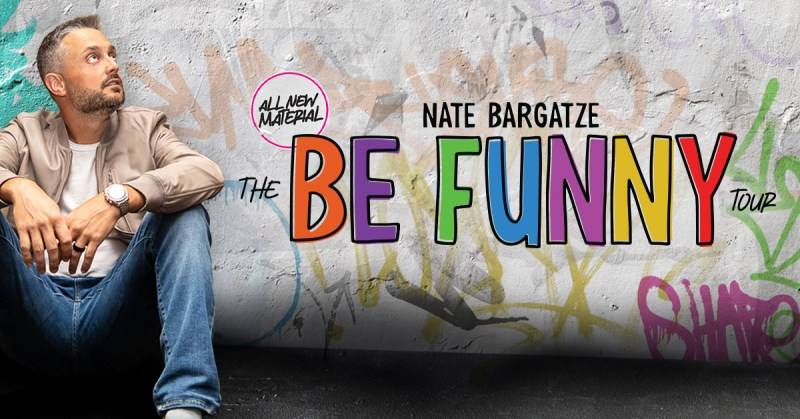 Bargatze stands out from most comedians for many reasons. The first thing fans notice is his low-energy stage presence and southern charm, but even more unique is the family-friendly content he builds his act with, which appeals to adults and children alike. At the onset of his career, the decision to be a clean comedian surely came with some risk in an industry that often relies on vulgarity and shock value, but nowadays he never has to second-guess his decision to build a show that can entertain all ages.
"Seeing that there is a massive audience that wants to see this kind of comedy, it is rewarding," he said. "I realize that I headed in the right direction."
With his ability to sell out huge arenas across the country, some may find it curious that Bargatze is sprinkling in smaller shows on his tour, like his upcoming performance at the 2,000-seat CAC. He said he's fortunate that his act allows him to have appeal in big cities as well as more rural areas, and that he wants to get out to as many different places as possible to keep his fanbase growing.
"It is very funny to switch back and forth (from arenas to theaters), but you have to do a mix," he said. "Some markets I'll do arenas in, and in some maybe I can't do an arena yet. It kind of just varies on where you go."
Though he finds performing for massive crowds extremely exciting, Bargatze still loves working in theaters because of the more intimate feeling those shows can provide.
"There is something very nice about it," he said.
Regardless of the venue, Bargatze noted that his style stays "pretty much the same," and that he isn't moving around a lot on stage no matter where he's doing his act.
"I always joke that it's this energy, it's just a matter of how many people are watching it," he quipped.
The reason Bargatze's popularity has skyrocketed over the last few years is in part due to the mega success of his special "The Greatest Average American" which he released in 2021, while the pandemic still loomed large. Though he already had several specials ("Yelled at by a Clown," "Full Time Magic," "The Tennessee Kid") under his belt by the time of its release, Bargatze said "The Greatest Average American" gained extra traction "just because people were home."
"When that special came out I wasn't really touring, because you couldn't, so I wasn't really able to feel the impact it had," he said. "Once I finally started going back out it was like, 'Oh, people watched that special.'"
Another huge boost to Bargatze's career is his weekly podcast "Nateland" which has grown to over 100,000 subscribers since it launched two years ago. Just like his stand-up act, the podcast provides clean entertainment for all ages and steers clear of divisive topics like politics.
"There are kids that come to shows with their parents, and they watch the podcast together as a family. That stuff means a lot," he said. "A lot of kids their first comedy show is one of my shows."
Now that he's in such high demand, Bargatze has grown accustomed to creating new material for his act at an incredibly fast pace. Putting together a fresh hour is a daunting task for any comedian, but Bargatze seems to do it effortlessly. He said "pure panic" is what enables him to do so.
"You just go, 'I gotta have more stuff,'" he said. "I was very nervous about this one because I really was thinking about Bridgestone a lot. I was like, I have to have new stuff by the time the tour starts and by the time I get to Bridgestone because that was such a big show."
In building a new act, Bargatze likes to stick his newest material at the front of his set, as long as it makes sense within the context of the show. Not only is he more excited to tell a new joke, but it also allows him to gauge his time better.
"That kind of sets the tone when you walk out," said Bargatze.
As for his inspiration, Bargatze said that every story he tells on stage comes from his real life. Sometimes he has to stretch the truth slightly or remove details for simplicity but, "sometimes you just get lucky and a story kind of stays the way it happened."
Always working to keep his act clear of any heavy topics that might alienate members of his fanbase or hurt someone's feelings, Bargatze said he definitely has times where he wants to bring up those types of issues, but he always reminds himself not to.
"You want to be a break for everybody and be entertainment," he said. "That's what entertainment used to be — just being funny and giving people a break."