The story revolves around a customized '62 Ford Galaxie convertible built by the talented rod builder Alan Johnson from Alabama. Custom Rodder magazine invited renowned street rod builders to create a mild custom rod within certain limitations, such as no major body modifications, frame-offs, or wild suspension or drivetrain swaps. Alan Johnson was the first to accept the challenge and constructed a stunning Galaxie convertible. Starting with a fairly clean and running '60s car, Alan and his team at Johnson's Hot Rod Shop in Gadsden, Alabama, began by working on the suspension.
They used a basic Air Ride Technologies kit, rebuilt the frontend with a Rare Parts rebuild kit, and incorporated '77 T-bird spindles for lowering and disc brakes. A bolt-on sway bar from Quickor Suspension was added for enhanced stability. The 9-inch rear end was fitted with an Air Ride bolt-on bag kit and a Quickor sway bar. The old steel wheels were replaced with Colorado Custom Valdez billets with BFGoodrich Comp T/As. Alan was given some freedom in the transmission department and paired the stock 390 engine with a GM 700-R4 using a conversion kit from Hughes Performance.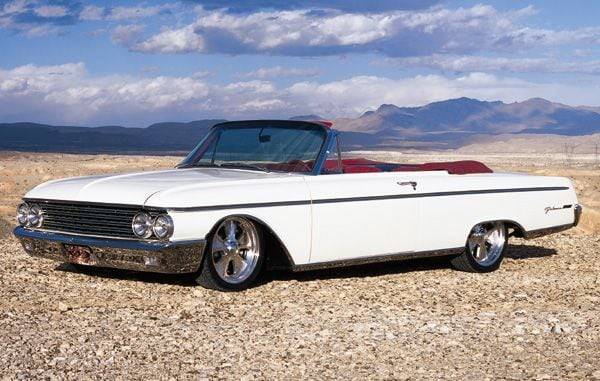 The exterior of the Galaxie underwent mild modifications, including shaving of the antenna, emblems, and some trim. Wesley Johnson performed the bodywork, while Kevin Adcock expertly applied the PPG Wimbledon White paint. The top mechanism was restored and covered in black factory-style material. Inside, the seats were redone in stock red vinyl by Bill Holbrook, with the flooring covered in carpet from ACC. The door paneling and dash were recovered by Just Dashes in California. A Billet Specialties steering wheel and Vintage Air controls/vents added a modern touch to the otherwise stock interior.
The article emphasizes that although Alan could have created a show-stopping full custom, he built the Galaxie as a practical and drivable car. It showcases the possibilities of working within limitations and budget constraints, making it relatable to readers with average skills and resources. Overall, the story highlights the meticulous craftsmanship and attention to detail that went into transforming a simple '62 Ford Galaxie into a stunning custom convertible.