In 1998, Gabriel, Sr., purchased this 1961 Chevrolet Impala to cruise the streets of the Permian Basin. For the next ten years, Sr. would spend the weekends with his son, twisting a few wrenches under the hood while instilling family morals at the same time. Eventually, the younger Gabriel would come to know this Bowtie inside and out. With such dedication and a bright future, it was only fitting that on his 13th birthday, mom and dad would hand the keys to Gabriel, Jr. The young boy was taken completely off guard by his parents' generosity. "It wasn't expected. I was speechless, and it was the happiest day of my life!" 
First, with some help from R&R Customs, this teenaged auto aficionado wanted to change the bubble top's look from that of "the previous owner." Robert Rios and staff laid out the patterns over the turquoise base and re-stitched the interior before delivering it back to Midland. Next, Sr. and Cruz Madrid updated the OEM powertrain's performance, and added chrome components throughout the engine compartment. As Gabriel neared the driving age, he knew that he couldn't take a chance in cruising his Impala without juiced strokes. All summer, he worked and saved up for the two-pump setup and installation, leaving little chance of being upstaged by fellow cruisers. Three years later and with all stipulations fulfilled, the summer ended with a family cruise to Velarde Park with dad in his '61 ragtop, mom in her '62 ragtop, and Gabriel with switch at hand in his '61 "Mintirosa."
Today, Gabriel continues to stay on par with his parents' guidelines and is a role model in his community. "The building of my beautiful car has given me the confidence in life that no trophy can ever justify; and it was made possible with the help of my parents Gabriel, Sr., and Kendra, along with my brother, Zach." Paz, Tejas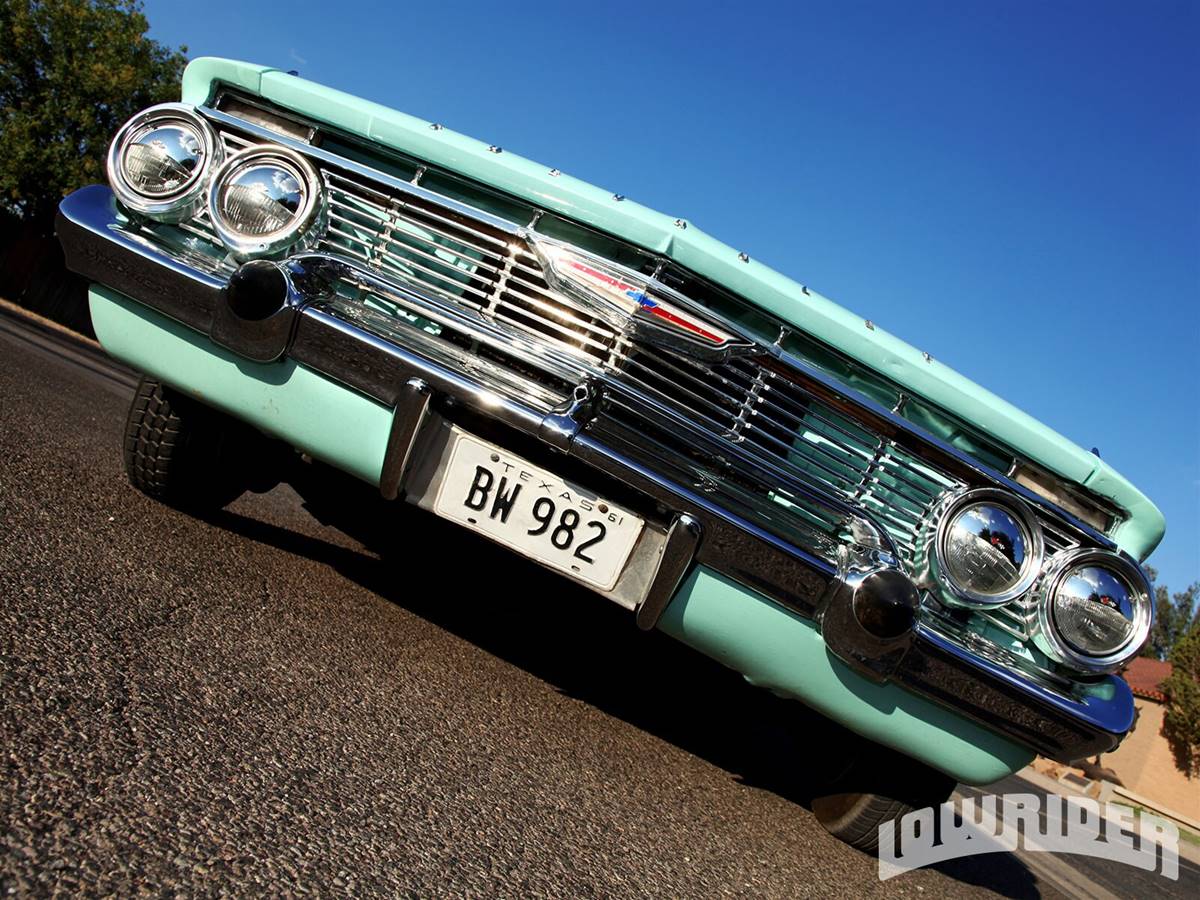 Owner: Gabriel Acosta, Jr.
City/ State: Midland, TX
Club: Impalas C.C.
Body/ Paint: PPG Silver and PPG Mint basecoat with Turquoise patterns by R&R Customs.
Engine/Chassis: Stock 350cu with chrome Edelbrock intake and carburetor. Front disc brake system installed by owner.
Hydraulics: Black Magic two-pump chrome setup with whammy tank. With hard lines juicing the front 8-inch & the rear 10-inch cylinders for the three-wheel motion installed by Little Man of Odessa, TX.
Interior: White OG with turquoise tweed tuck & roll inserts by R&R Customs of El Paso.
Plating: Economy Plating of Dallas.
Tires: Hankook 155/80R13.
Wheels: Galaxy Wire 13x7 painted dish with white powder spoke.