Jorge Lopez owns a 1987 Chevrolet Monte Carlo LS, which he has named "Incognito." Despite its name, the car stands out due to its unique features and stunning appearance. Jorge is an active member of the lowrider community in Dallas, Texas, and has recently taken on leadership roles in the Intokablez Car Club and the United Lowrider Association (ULA). Both organizations focus on making positive contributions to society through charity events, support for the arts, and an annual toy drive for underprivileged children.
Incognito's beautiful candy royal blue paint job with graphics was expertly done by Joe Ruiz at JB Kustoms in Dallas. The engine compartment features custom engraving by Jorge's friend Gilbert Cortez. The GM 305-c.i.d. V-8 engine has been modified with painted, engraved, and chrome-plated parts. The body's sleek design and impeccable paint job have earned Incognito several awards and recognition at prestigious car shows. Inside the car, Robert Rios at R&R Customs in El Paso crafted a luxurious interior with gray and blue velvet upholstery, purple piping, cut mirrors, and a custom center console.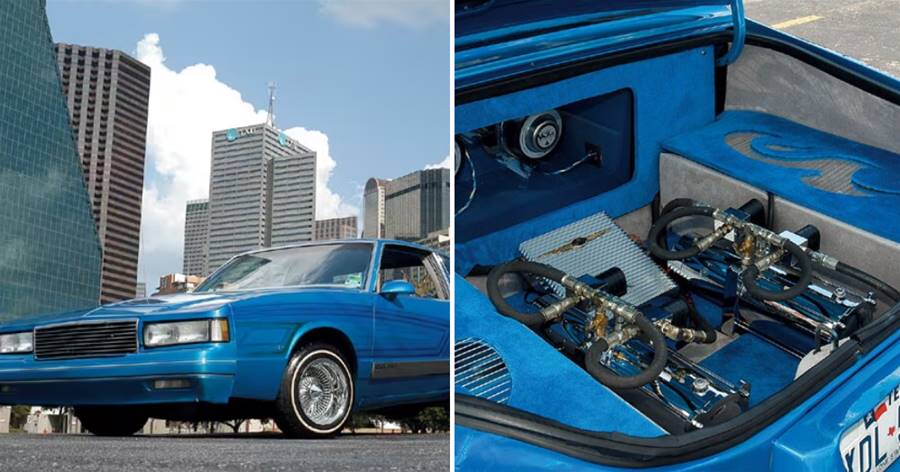 The sound system, installed by Eric Esparza at JB Kustoms, boasts a Panasonic head unit/CD player and powerful 10-inch JL Audio subwoofers that provide an incredible audio experience while cruising in Incognito. Cesar at Irving Customs installed a hydraulic setup in the car, allowing it to hop with the touch of a button. This feature is particularly thrilling for Jorge's four-year-old son, who calls all lowrider cars "hoppits" due to their hydraulics. Jorge plans to pass down Incognito to his son when he grows up, making him one lucky kid with a royal blue '87 Monte Carlo as his first car.
The car's tires are Remington P155/80-R13, and it showcases 100-spoke Dayton wheels, adding to its overall stylish appearance. In conclusion, Jorge Lopez's '87 Chevy Monte Carlo LS, known as Incognito, is an impressive street cruiser with a strong presence in the custom car community. Its unique features, inside and out, have earned it numerous accolades, and the vehicle has become a symbol of Jorge's involvement in promoting positive change through his car club and the ULA. Incognito is a remarkable example of automotive craftsmanship that will be cherished by Jorge's family for generations to come.