David Gravelle, from Montreal, Quebec, Canada, was disappointed by the lack of custom Lowrider vehicles and shops in his area. He decided to take matters into his own hands and embarked on a six-year project to create his own custom Lowrider Cadillac Fleetwood, which he named "Starburst." With the help of his friends, Martin, Maggy, Abel, and Diggy, they transformed the '96 Cadillac into a masterpiece. The first step was to strip the car down and work on the body.
Gordon Performance performed all the necessary metal work and applied the DuPont Hot Hues Razzling Red basecoat. The engine was next on the list, and Dave replaced the bulky and plastic-filled LT1 motor with a 350 motor from a '70 Chevelle. AutoChrome 2005 was called upon to chrome every inch of the new engine. In Dave's garage, the custom hydraulic system was installed, featuring a two-pump rear setup and a single piston pump for hopping. Eggz Custom Fabrication extended the upper arms and molded them, while aluminum trailing arms and a reinforced differential were added.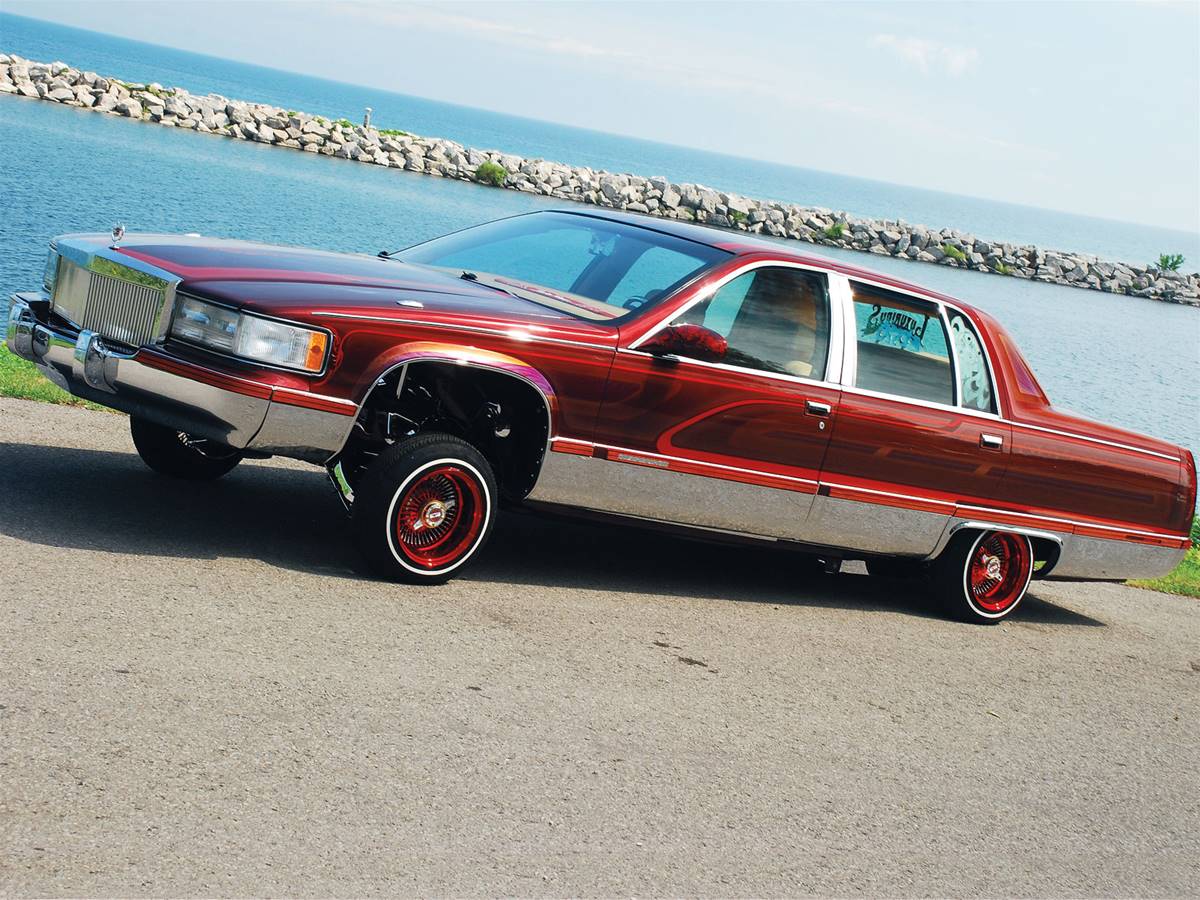 A custom engraved metal gas tank replaced the stock plastic fuel holder. To make Starburst stand out even more, Dave enlisted the help of Coast One from California to create intense graphics using House of Kolor pearls. Tattoo Art in Montreal provided top-notch pinstriping and leafing, while Freddy Alfaro worked on the unique murals in the trunk and engine compartment. Fitto added murals to the side mirrors and inside the door jams, and Cortez Custom Engraving engraved the rest of the body.
The interior of the taxicab was in desperate need of an upgrade, so Dave turned to Chohan Custom Fabrics in Toronto. They built custom wood-grain material and various interior additions, including a one-off metal shaped and molded steering wheel with the car's name, Starburst. Don Beto added custom seats, door skins, dashboard, and headliner. As the President of the Montreal chapter of Luxurious Car Club, Dave's dedication to his club and his car is evident. He even designed custom glass tail lights with the word "LUX" in raised glass to show his loyalty to the club.
Starburst has gained a following, with fans flying to shows just to catch sight of this unique creation from Montreal. In the end, Dave and his friends from the North have achieved a level of craftsmanship that is admired by many. Starburst is a true testament to their dedication and passion for custom Lowrider vehicles, bringing Canadian Lowriding to a whole new level.