In the summer of 1960, car enthusiasts eagerly awaited the unveiling of the new 1961 models. Chevrolet's new full-size models were particularly anticipated, given the significant differences in styling between the previous years. The 1961 Impala surprised everyone with its smaller, more stylish design. Engine options included the Blue Flame Six, the popular 283 small-block, and the powerful 348 W-motor big-block. However, the real excitement came later in the model year with the introduction of the legendary 409 engine and the Super Sport option package.
The Super Sport option package was a low-cost upgrade that included exterior and interior trim modifications. In its first year, it could only be obtained with other "mandatory" options, resulting in a stylish and high-performance sports sedan. However, finding an original '61 Impala SS was nearly impossible due to its limited production of just over 450 units. As a result, car enthusiast Charlie Freeland decided to build his own clone. Over the course of five years, Charlie transformed a fair '61 Impala base car and two additional '61 donor cars into his dream vehicle. The project began with the replacement of the rear quarter-panels and extensive reworking of the rear wheelwell areas. The deck lid grilles and front side marker lights were removed, and the body panels were meticulously repaired and smoothed. The car was then painted with a Mercedes Wedgewood Blue basecoat/clearcoat finish.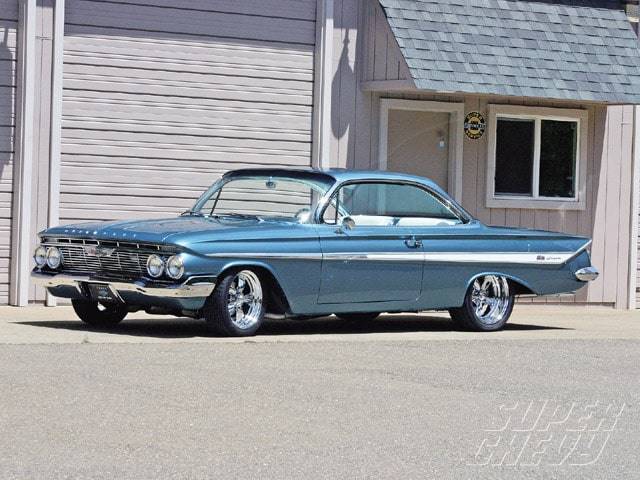 The chassis was upgraded with dropped front spindles, lowered rear springs, KYB gas shocks, and additional rear control arms and sway bars. The entire chassis assembly was detailed before the body was reinstalled. Under the hood, Charlie installed a complete '63 425hp 409 engine. The motor was bored oversize, fitted with performance parts, and paired with a rebuilt Chevrolet 700R4 transmission. The drivetrain was completed with a narrowed Chevrolet 12-bolt rear end and American Torque Thrust II wheels.
Inside the car, Charlie installed '63 Impala bucket seats and a '61 rear bench seat, which were covered in Snowstorm White pleather. The door and side panels were also covered in matching white vinyl, and the carpet was grey loop. The interior features Auto Meter Ultra-Lite gauges, a Billet Specialties steering wheel, and an Alpine sound system. Despite being a clone, Charlie's '61 SS impresses car enthusiasts at shows and rod runs. It is a testament to Charlie's passion for early '60s Impalas. He and his wife Cynthia have created a unique and stunning ride that they can be proud of.