Jesse Leal, a young customizer and member of the City Style car club, initially tried to push for the club to embrace newer-style rides by purchasing a Chrysler 300 with large 22-inch wheels. However, this non-traditional look did not sit well with the majority of club members, who preferred the traditional format of riding on 13-inch wire wheels. Realizing that the tried and true staples of Lowrider traditions have survived for decades for a reason, Jesse decided to go back to his roots and search for a new project. He eventually found a 1981 Lincoln with an OEM moon roof on eBay and had it shipped to his family shop in Texas.
After six months of transforming the car into an immaculate Lowrider, which he named "Baby Boy" in honor of his great nephew, Carlos, the car made its debut in the LRM Las Vegas Super Show. The car placed in the top three at the show, but for Jesse, the most memorable moment was the support and inspiration he received from his club members. The Lincoln's body was smoothed out by Tim Pena at Leal Bros before Jesse's brothers sprayed a candy apple red over a silver base. Tri-color graphics of magenta, gold, and tangerine were added, along with murals by John Saenz of Leal Bros and pinstripes by Low Key of Dallas.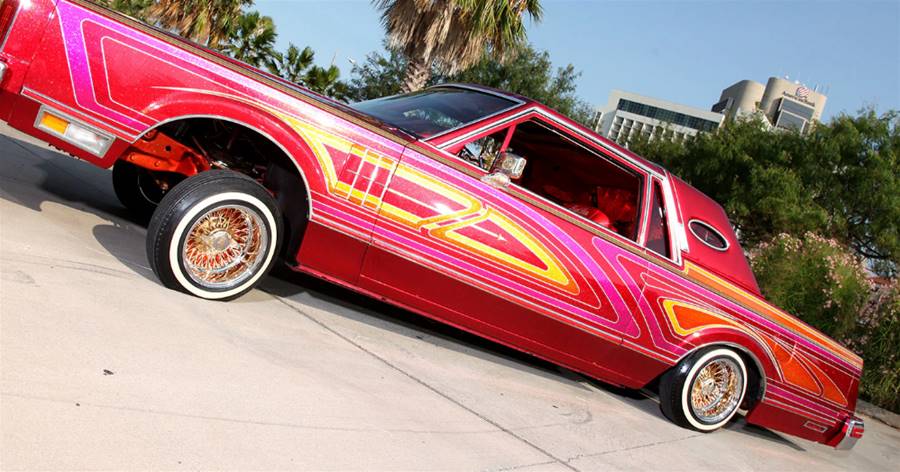 The car is powered by a fuel injected 302 c.i. engine and features a custom trunk by Leal Bros with a four pump hydraulic setup installed by Shorty's Hydraulics of Houston. The interior boasts a custom dash and console by Leal Bros, with a bright four-color scheme stitched by Hinojosa's of Corpus Christi. The car's stereo system includes a Pioneer deck and two 800 Kicker amps pushing 10" Kickers, along with four JVC monitors.
Engravings on the car's A-arms, grille, mirror, and wheels were done by Salas Engraving of Pasadena. The Lincoln rides on 13x7 center Gold Dayton Wire wheels and 5.20s Premium Sportway tires. Jesse credits the success of this project to the support of his family, including his siblings, nephews, and parents, as well as his cousin Eli and Joanne Lopez. He also mentions God as an important source of support. Jesse's car has since inspired other City Style members to participate in the LRM Super Show experience, solidifying his place in the Lowriding community.