So Cool! 1963 Chevrolet Impala Rendering Is Part Lowrider, Part Drag Car!
The 1963 Chevrolet Impala has become a staple of the lowrider community. This classic Chevrolet cruiser, along with the later 1964 model year, are considered the holy grail of lowriders, as they are the preferred vehicle of choice for some of the most talented and well-known builders.
While rendering artist Abimelec Arellano may not know much about building lowriders, he does know a whole lot about creating digital drawings of cars, trucks and SUVs. So when a fan of his reached out and asked him to render a custom lowrider based on a 1963 Chevrolet Impala, he accepted this rather difficult challenge and set to work.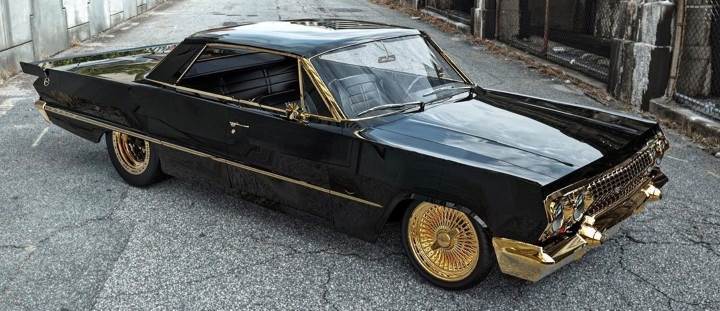 "When @clapdout reached out to order this very particular set of 1963 Chevrolet Impala renderings I really wasn't sure how the styling was going to work out, but I am very happy to report that I absolutely love the result: a purpose built drag strip machine infused with Low Rider essence," Arellano said of his custom lowrider. "Gold plated trim, big fat tires, drag wing and Dayton wire wheels skinnies (have you ever seen that before?!) make this Impala a very unique ride and I can't wait to see the build start!"
As Arellano explains, this is no regular lowrider. Whereas most of these custom cruisers are made for just that, cruising around town at low speeds, this car blends lowrider style with drag racing functionality. The gold plated trim and wire wheels make it look like any other lowrider at a first glance, but the huge rear tires, beadlock wheels and low-drag rear wing make its motorsports pedigree clear. The fan who asked him to render the vehicle has a lot of work ahead of them to mimic this rendering, but we can appreciate the ambition. And just like Arellano, we can't wait to see the finished product.